Events
Please note that Southgate's Got Games has now moved from Tuesday to Friday evenings.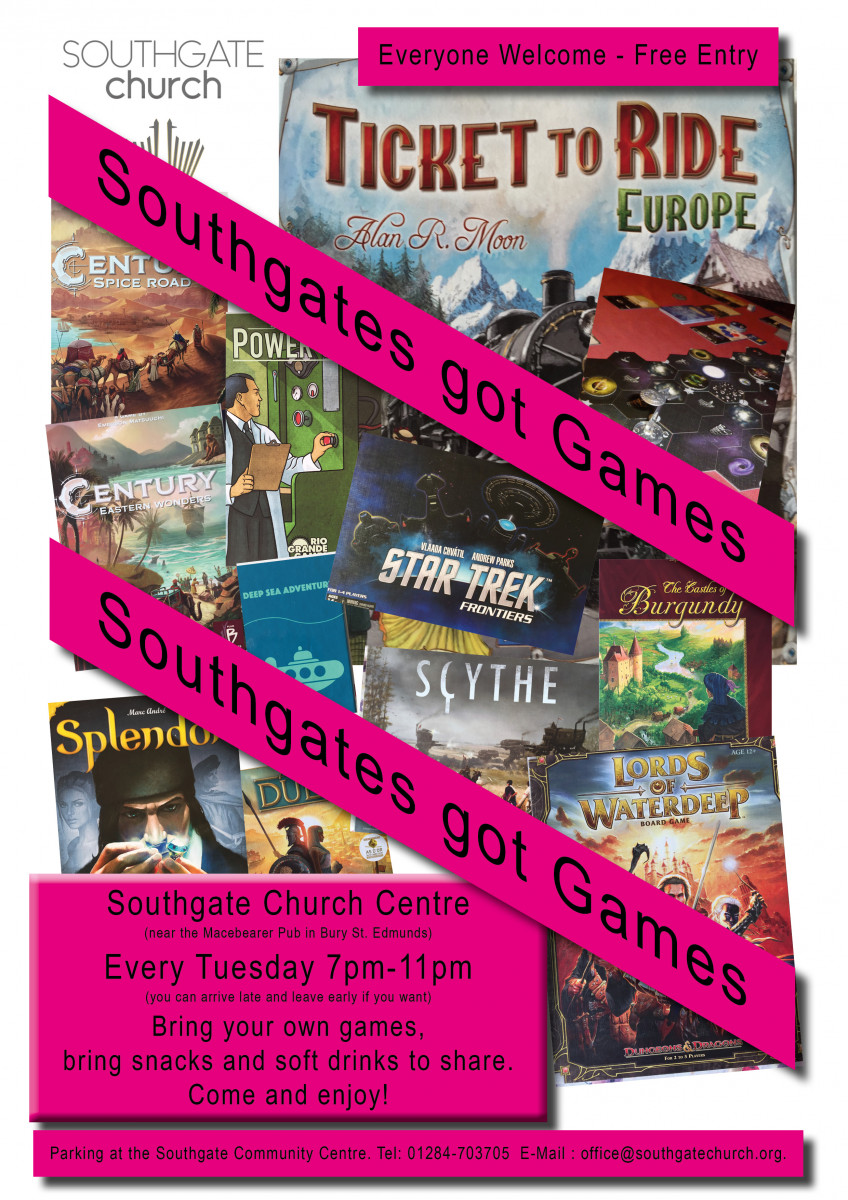 SOUTHGATE'S GOT MESSY CHURCH
It was great to see so many people come along to our second Messy Church event, on Friday 25th January. There were crafts, games, story and a meal. We hope you really enjoyed it. Our next Messy Church will be on Friday 7th June, 4.30pm to 6.30pm. Please click here for a list of similar events, which may be of interest to you.
GRAHAM KENDRICK – KEEP THE BANNER FLYING HIGH!
@ The Apex, Bury St Edmunds,
Saturday 27th April 2019
SOLD OUT
With several decades of song-writing under his belt, and having penned some of the
world's best known worship songs, Graham Kendrick leads us on a captivating
musical journey, supported by David Fitzgerald (flute and saxophone), Terl Bryant
(percussion) and Simon Dennis (bass). His first album for three years was released
in May with a collection of all new songs: We'll Keep the Banner Flying High!
Graham says of the title song: "It's about pushing through weariness or
discouragement, keeping our eyes on Jesus, doing the work he gives us to do and
doing it together."
Graham Kendrick has been described as the 'father of modern worship music' whose
songs are 'crammed full of poetic, divine, biblical truth' that have 'sculpted a view of
God that has impacted generations. For more than 30 years he has been at the
forefront of Christian music in the UK having written and recorded hundreds of songs, many of which are well known around the world, including: Shine Jesus
Shine, Knowing You, The Servant King, Amazing Love and For This Purpose.
Earlier this year he appeared in a special edition of BBC's Songs of Praise featuring
contemporary Christian songwriters.
Who is this event for? Of course it is for everybody who loves Graham's music -but
it is also the kind of event to bring friends who may not feel comfortable in a conventional church service. There will be some to listen to, some to sing along to,
and new ones to do both. Be there! Tickets are £16 (+ £1 booking fee) from The Apex
Box Office, 1 Charter Square, IP33 3FD; 01284 758000; online: www.theapex.co.uk
Presented by Southgate Church as a fundraising event for the local Christian charity, Chaplain in the Workplace
Link to YouTube video: https://www.youtube.com/watch?v=nPcguVRFJgg ,
or search: Graham Kendrick Keep The Banner Flying High